Certificado Profissional Desenvolvedor Front-End da Meta
Launch your career as a front-end developer. Build job-ready skills for an in-demand career and earn a credential from Meta. No degree or prior experience required to get started.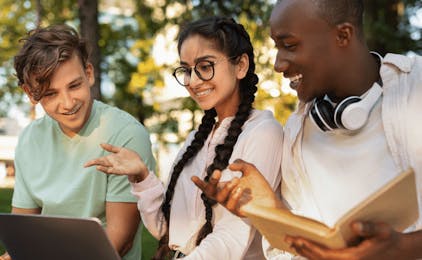 5,516 classificações
92,498 já inscritas
7 meses
Menos de 6 horas de estudo por semana
Nível iniciante
Não é necessário ter experiência prévia.Não é necessária experiência prévia.
Desenvolva habilidades prontas para o trabalho aprendendo com os melhores
Entre no campo em alta de desenvolvimento de software com uma Certificação Profissional do Meta. Aprenda os fundamentos de desenvolvimento front-end e obtenha habilidades de programação em alta no mercado desenvolvendo um aplicativo da web front-end para o seu portfólio.
Cargos comuns: Desenvolvedor front-end, desenvolvedor de website, desenvolvedor full-stack, engenheiro front-end, engenheiro de software
¹Relatório Lightcast™ Job Postings (mediana com 0-2 anos de experiência), Estados Unidos, 01/09/21-01/09/22.
Salário médio inicial¹ US$ 100.200

45.902
vagas de emprego sob demanda na área de desenvolvimento de front-end¹
Mais de 200
Conecte-se com mais de 200 empregadores dos EUA após o final do curso
¹Relatório Lightcast™ Job Postings (mediana com 0-2 anos de experiência), Estados Unidos, 01/09/21-01/09/22.
Habilidades que você terá
Cascading Style Sheets (CSS)

HTML

UI/UX design

React

JavaScript

Web Development Tools

User Interface

Front-End Web Development

HTML and CSS

Responsive Web Design

Test-Driven Development

Object-Oriented Programming (OOP)
Informações do Certificado Profissional
O que você vai aprender
Create a responsive website using HTML to structure content, CSS to handle visual style, and JavaScript to develop interactive experiences. 

Learn to use React in relation to Javascript libraries and frameworks.

Learn Bootstrap CSS Framework to create webpages and work with GitHub repositories and version control.

Prepare for a coding interview, learn best approaches to problem-solving, and build portfolio-ready projects you can share during job interviews.
O que é um Certificado Profissional?
Adquira o conhecimento para garantir uma vaga
Não importa se quer começar uma nova carreira ou aperfeiçoar a atual: os Certificados Profissionais do Coursera ajudam você a ficar pronto para conseguir uma vaga. Aprenda no seu ritmo, quando e onde for melhor para você. Matricule-se já e descubra um novo plano de carreira com o teste grátis de 7 dias. Você pode parar o aprendizado por um tempo ou cancelar a inscrição quando quiser.
Projetos práticos
Use o conhecimento adquirido com projetos práticos e crie um portfólio que mostre que é o candidato ideal a possíveis empregadores. Você precisará concluir o(s) projeto(s) para receber o Certificado.
Obtenha uma credencial na carreira
Depois de concluir todos os cursos no programa, você receberá o certificado para compartilhar com sua rede profissional, bem como terá acesso a recursos de apoio à carreira para ajudá-lo a começar com o pé direito. Muitos Certificados Profissionais contam com parceiros de contratação que reconhecem as qualificações do Certificado Profissional, enquanto outros ajudam a preparar você para um exame de certificação. É possível obter mais informações sobre o que pode ser feito com um Certificado Profissional nas páginas específicas. Perguntas Frequentes – FAQ
Qual é a política de reembolso?

Posso me inscrever em um único curso?

Este curso é realmente 100% on-line? Eu preciso assistir alguma aula pessoalmente?

What does a front-end developer do?

What type of companies hire front-end developers?

What jobs will this prepare me for?

What is the difference between front-end and back-end developers?

Why start a career in front-end development?

Why should I earn a Meta developer certificate?

What resources will be available to help me with my job search?

Why did Meta create this program?

What is the Meta Career Programs Job Board?

Quanto tempo é necessário para concluir a Especialização?

What background knowledge is necessary?

Do I need a certain device to take this course?

Do I need to take the courses in a specific order?

Vou ganhar créditos universitários por concluir a Especialização?
Mais dúvidas? Visite o Central de Ajuda ao estudante.