Certificado Profissional Desenvolvedor de software full stack da IBM
Kickstart your career in application development. Saiba tudo sobre desenvolvimento full stack e nativo da nuvem com projetos práticos, incluindo HTML, JavaScript, Node.js, Python, Django, contêineres, microsserviços e outros. Não é necessário ter experiência prévia.Não é necessária experiência prévia.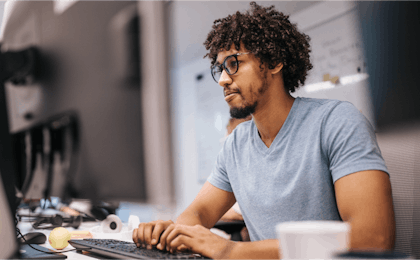 1,991 classificações
15,457 já inscritas
14 meses
Menos de 3 horas de estudo por semana
Inglês
Legendas: Inglês, Árabe, Francês, Portuguese (European), Italiano, Vietnamita, Alemão, Russo, Espanhol, Coreano
Nível iniciante
Não é necessário ter experiência prévia.Não é necessária experiência prévia.
Desenvolva habilidades prontas para o trabalho aprendendo com os melhores
Passe na frente para encontrar uma carreira como desenvolvedor de aplicativos nativos de nuvem full-stack com uma certificação profissional da IBM. Conheça as ferramentas e tecnologias que os desenvolvedores de software usam para criar, implantar, testar, executar e gerenciar aplicativos baseados em nuvem.
Cargos comuns: Desenvolvedor de aplicativos nativos de nuvem full-stack júnior, desenvolvedor de aplicativos nativos de nuvem full-stack
¹ Dados do relatório Burning Glass Labor Insight (mediana com 0-2 anos de experiência), Estados Unidos, 01/04/21-31/03/22.
US$ 75.200
salário médio básico¹
84.924
vagas de emprego sob demanda na área de desenvolvimento de software¹
¹ Dados do relatório Burning Glass Labor Insight (mediana com 0-2 anos de experiência), Estados Unidos, 01/04/21-31/03/22.
Habilidades que você terá
Cloud Native

Devops

Iaas PaaS Saas

Hybrid Multicloud

Cloud Computing

Cascading Style Sheets (CSS)

HTML

Git (Software)

JavaScript

Cloud Applications

Distributed Version Control (DRCS)

open source
Informações do Certificado Profissional
This Professional Certificate will equip you with all the key skills and technical know-how to kickstart your career as a Full-Stack Cloud Native Application Developer. Guided by experts at IBM, you will learn to build your own cloud-based applications and practice working with the technologies behind them. This program consists of ample instructional content as well as hands-on exercises and projects designed to hone your skills and help you build your portfolio.
No prior programming experience or Cloud background is required. You'll skill up with the tools and technologies that successful software developers use to build, deploy, test, run, and manage Full Stack Cloud Native applications, giving you the practical skills to begin a new career in a highly in-demand area.
The courses in this program will help you develop skill sets in a variety of technologies including: Cloud foundations, HTML, CSS, JavaScript, GitHub, Node.js, React, Cloud Native practices, DevOps, CI/CD, Containers, Docker, Kubernetes, OpenShift, Istio, Python programming, Databases, SQL, NoSQL, Django ORM, Bootstrap, Application Security, Microservices, Serverless computing, and more.
After completing the program, you will have developed several applications using front-end and back-end technologies and deployed them on a cloud platform using Cloud Native methodologies.
This program is ACE® recommended—when you complete, you can earn up to 18 college credits.
O que você vai aprender
Develop with front-end development languages and tools such as HTML, CSS, JavaScript, React and Bootstrap.

Program applications using back-end languages and frameworks like Express, Node.js, Python, Django, etc.

Deploy and scale applications using Cloud Native methodologies and tools like Containers, Kubernetes, Microservices and Serverless Functions.

Build your GitHub portfolio by applying your Full Stack Cloud Development skills with multiple labs and hands-on projects, including a capstone.
O que é um Certificado Profissional?
Adquira o conhecimento para garantir uma vaga
Não importa se quer começar uma nova carreira ou aperfeiçoar a atual: os Certificados Profissionais do Coursera ajudam você a ficar pronto para conseguir uma vaga. Aprenda no seu ritmo, quando e onde for melhor para você. Matricule-se já e descubra um novo plano de carreira com o teste grátis de 7 dias. Você pode parar o aprendizado por um tempo ou cancelar a inscrição quando quiser.
Projetos práticos
Use o conhecimento adquirido com projetos práticos e crie um portfólio que mostre que é o candidato ideal a possíveis empregadores. Você precisará concluir o(s) projeto(s) para receber o Certificado.
Obtenha uma credencial na carreira
Depois de concluir todos os cursos no programa, você receberá o certificado para compartilhar com sua rede profissional, bem como terá acesso a recursos de apoio à carreira para ajudá-lo a começar com o pé direito. Muitos Certificados Profissionais contam com parceiros de contratação que reconhecem as qualificações do Certificado Profissional, enquanto outros ajudam a preparar você para um exame de certificação. É possível obter mais informações sobre o que pode ser feito com um Certificado Profissional nas páginas específicas. oferecido por

IBM Skills Network
IBM is the global leader in business transformation through an open hybrid cloud platform and AI, serving clients in more than 170 countries around the world. Today 47 of the Fortune 50 Companies rely on the IBM Cloud to run their business, and IBM Watson enterprise AI is hard at work in more than 30,000 engagements. IBM is also one of the world's most vital corporate research organizations, with 28 consecutive years of patent leadership. Above all, guided by principles for trust and transparency and support for a more inclusive society, IBM is committed to being a responsible technology innovator and a force for good in the world.
Perguntas Frequentes – FAQ
Qual é a política de reembolso?

Posso me inscrever em um único curso?

Este curso é realmente 100% on-line? Eu preciso assistir alguma aula pessoalmente?

How long does it take to complete the Professional Certificate?

What background knowledge is necessary?

Do I need to take the courses in a specific order?

What will I be able to do upon completing this Professional Certificate?

Can I get college credit for taking the IBM Full Stack Software Developer Professional Certificate?

How do you share your proof of completion with the educational institutions for transferring credit?

Where can I find more information on ACE credit recommendations?
Mais dúvidas? Visite o Central de Ajuda ao estudante.