Certificado Profissional Engenheiro de armazém de dados da IBM
Kickstart your Career in BI Engineering. Develop job-ready skills for an entry level role in Data Warehousing.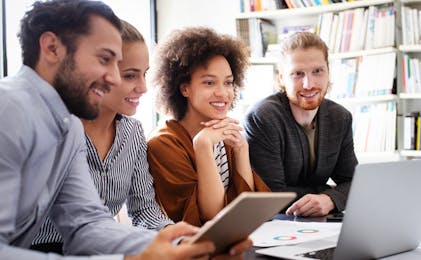 229 classificações
3,283 já inscritas
8 meses
Menos de 4 horas de estudo por semana
Nível iniciante
Não é necessário ter experiência prévia.Não é necessária experiência prévia.
Desenvolva habilidades prontas para o trabalho aprendendo com os melhores
Entre no campo em alta de engenharia de armazém de dados com uma Certificação Profissional do IBM. Aprenda a criar pipelines de dados, consultar dados usando SQL e a trabalhar com várias ferramentas de BI e bases de dados para projetar, implementar e gerenciar armazéns de dados corporativos (EDW).
Cargos comuns: Engenheiro de armazém de dados, especialista em armazém de dados, desenvolvedor de armazém de dados, engenheiro de inteligência administrativa (BI)
¹Lightcast™ Job Postings Report (median with 0-2 years experience), United States, 9/1/21-9/1/22.
$60,000
median entry-level salary¹
38,320
in-demand job openings in data warehousing¹
¹Lightcast™ Job Postings Report (median with 0-2 years experience), United States, 9/1/21-9/1/22.
Habilidades que você terá
Relational Database (RDBMS)

Business Intelligence (BI)

Enterprise Data Warehouse (EDW)

SQL

Extract Transform Load (ETL)

Data Science

Database (DBMS)

NoSQL

Database (DB) Design

Database Architecture

Postgresql

MySQL
Informações do Certificado Profissional
O que você vai aprender
Compose and execute various types of SQL statements and queries to access and manipulate data in databases

Deploy, Manage, Secure, Operationalize, Monitor and Optimize relational database systems like MySQL, PostgreSQL, and DB2

Create Data Pipelines to extract, transform and load data repositories using shell scripts, and tools such as Apache Airflow & Kafka

Design and populate Data Warehouses and analyze their data with Business Intelligence (BI) tools like Cognos Analytics
O que é um Certificado Profissional?
Adquira o conhecimento para garantir uma vaga
Não importa se quer começar uma nova carreira ou aperfeiçoar a atual: os Certificados Profissionais do Coursera ajudam você a ficar pronto para conseguir uma vaga. Aprenda no seu ritmo, quando e onde for melhor para você. Matricule-se já e descubra um novo plano de carreira com o teste grátis de 7 dias. Você pode parar o aprendizado por um tempo ou cancelar a inscrição quando quiser.
Projetos práticos
Use o conhecimento adquirido com projetos práticos e crie um portfólio que mostre que é o candidato ideal a possíveis empregadores. Você precisará concluir o(s) projeto(s) para receber o Certificado.
Obtenha uma credencial na carreira
Depois de concluir todos os cursos no programa, você receberá o certificado para compartilhar com sua rede profissional, bem como terá acesso a recursos de apoio à carreira para ajudá-lo a começar com o pé direito. Muitos Certificados Profissionais contam com parceiros de contratação que reconhecem as qualificações do Certificado Profissional, enquanto outros ajudam a preparar você para um exame de certificação. É possível obter mais informações sobre o que pode ser feito com um Certificado Profissional nas páginas específicas. Perguntas Frequentes – FAQ
Qual é a política de reembolso?

Posso me inscrever em um único curso?

Este curso é realmente 100% on-line? Eu preciso assistir alguma aula pessoalmente?

Quanto tempo é necessário para concluir a Especialização?

What background knowledge is necessary?

Do I need to take the courses in a specific order?

Vou ganhar créditos universitários por concluir a Especialização?

What will I be able to do upon completing the Specialization?
Mais dúvidas? Visite o Central de Ajuda ao estudante.